Right now Pink is into sausage and not carpet?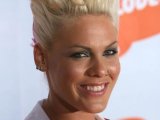 Glen Harris / Photorazzi
Pink has been spotted kissing music producer Butch Walker only two weeks after her split with husband Carey Hart, say reports.
The singer attended the Key Club in LA to perform with rockers Metal Skool and was reportedly drunk while on stage.
A source told
In Touch
: "She sang laying on the floor because she seemed too drunk to stand."
She was then allegedly seen "making out" with Walker, who has worked with the popstar on past albums.
"They were making out and looking very together," said a witness.