I refuse to believe that Suri is anything but an IVF baby....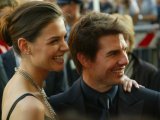 Tom Cruise has reportedly refused to have IVF treatment in a bid to conceive a baby with wife Katie Holmes.
The actress is rumoured to be growing increasingly concerned that she has been unable to fall pregnant for the second time.
Now
reports that Holmes was desperate to undergo the fertility treatment but Cruise banned it because it is frowned on by the Scientology movement.
A source said: "Katie's concerned about Suri being lonely as she's kept in a bit of a Scientology bubble. She wants her to have a playmate.
"Tom keeps telling her to focus on Scientology methods of creating "positive energy" to become pregnant, which he's convinced worked the first time around, but Katie's losing patience.
"She's getting frantic and the worst thing is she knows that the more stressed she becomes, the less likely she is to conceive."