WTF??? From Digital Spy: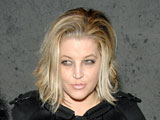 Rex Features
Priscilla Presley has confirmed that her daughter Lisa Marie is pregnant with twins.
The new arrivals will be the singer's first children with husband Michael Lockwood.
Speaking on
Entertainment Tonight
, Priscilla said: "She wanted it really to be kept a secret for a long time.
"And I think women should, because they should be able to announce what they're having and when it's time to make the announcement."
The 40-year-old already has two children, 19-year-old daughter Riley and 15-year-old son Benjamin, from her romance with Danny Keough.