By Simon Reynolds, Entertainment Reporter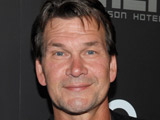 Rex Features
Patrick Swayze has hit out at tabloid rumours claiming that he is close to death.
A report from the
National Enquirer
alleged that Swayze was "on his last legs" and saying goodbye to his family after his pancreatic cancer spread to his liver.
In a statement to
People
, the 56-year-old blasted the US reports for spreading "lies and false information about me and those close to me".
"Pancreatic cancer is an aggressive disease and from the moment I was diagnosed, I knew I was in for the fight of my life," he said. "It's a battle, and so far, I've been winning. I'm one of the lucky few that responds well to treatment."
He added: "It's upsetting that the shoddy and reckless reporting from these publications casts a negative shadow on the positive and good fight I'm fighting.
"For me, my family, and those close to me, it amounts to downright emotional cruelty. That makes me angry when hope is so precious."