Tom Cruise and Katie Holmes Double Date with the Seinfelds
WEDNESDAY JANUARY 16, 2008 12:30 PM EST
Jerry Seinfeld (left) dined with Katie Holmes and Tom Cruise Photo by: Ahmad Elatab / Jackson Lee / Splashnewsonline; INFphoto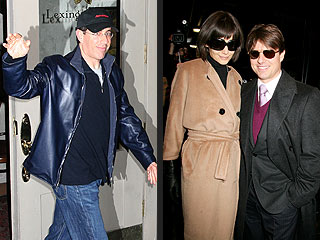 Suri may not have joined them, but
Tom Cruise
and
Katie Holmes
had plenty of company at New York City's Sfoglia Tuesday night.
The pair joined Jerry and Jessica Seinfeld at the exclusive upper east side eatery, for a nearly three-hour-long meal. Along with plates of rustic Italian food and red wine, the foursome shared plenty of laughs.
In addition to Holmes entertaining the table with her animated storytelling, Cruise and Seinfeld cracked a few jokes.
The Seinfelds left the restaurant first, leaving Cruise and Holmes to collect themselves before hitting the onslaught of paparazzi waiting outside.
and don't forget this:
Jerry Seinfeld has insisted that his belief in Scientology made him a better comedian in his early career.
The
Seinfeld
star said he was introduced to the religion by a high school teacher almost 30 years ago.
He told
Parade
magazine: "It was interesting. Believe it or not... it's extremely intellectual and clinical in its approach to problem-solving, which really appealed to me."
Although he did not become as heavily involved as celebrity followers Tom Cruise and John Travolta, he added that his faith had improved his skills as a comic, saying: "In my early years of stand-up, it was very helpful. I took a couple of courses. One of them was in communication, and I learned some things about communication that really got my act going.
"They [Scientologists] have a lot of very good technology. That's what really appealed to me about it. It's not faith-based. It's all technology. And I'm obsessed with technology."
*off of gossip rocks*