eSo I'm gonna hit you with two in one here from digital spy:
Bono is a Fat Bastard:
Monday, August 18 2008, 17:07 BST
By Simon Reynolds, Entertainment Reporter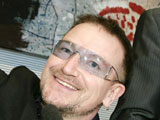 Rex Features
Bono has been instructed to lose weight ahead of U2's proposed tour next year.
The group, whose upcoming album is rumoured to be titled
No Line On The Horizon
, have all been instructed to get into shape prior to starting promotional duties.
"U2 have an album coming out around January," a source told the
New York Post
. "And then the band is going on another world tour in March and April - so the boys have been told to start exercising all the summer weight off."
Four tracks from the LP, thought to be named 'Moment of Surrender', 'For Your Love', 'Sexy Boots' and 'No Line On The Horizon', allegedly
leaked online
last week.
Jessica Simpson wants to have a Bastard:
*And Jessica Simpson is
Still
an Idiot, Funny how she's trying to remain relevant with the only thing she has left: her uterus*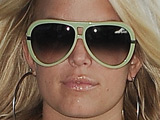 Rex Features
Jessica Simpson told Tony Romo's parents that she was pregnant after misreading a test, say reports.
The singer revealed the news to her boyfriend's mum and dad on July 18, according to the
National Enquirer
.
Her announcement apparently prompted "a huge fight" at the Romo family home.
"Jessica and Tony thought she was pregnant and happily announced it to the family," said a source.
"The news resulted in dead silence. Then Tony's dad Ramiro said, 'You're not married. This is crazy!' Tony's mom Joan joined in, demanding, 'How can you do this to us?'"
Simpson allegedly later found out that she had made a mistake when reading her test results.
An insider added: "Her friends know she's feverishly trying to conceive."