I'm not sure if I should laugh at how funny it is or just sigh because Madonna has never really changed...from digital spy:
By Daniel Kilkelly, Entertainment Reporter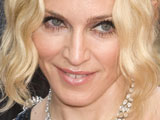 Rex Features
Madonna has been accused of "stealing" US baseball star Alex Rodriguez from his wife of five years.
Cynthia Rodriguez was reportedly furious when she found a letter that the sportsman had written to Madonna, which said: "You're my soulmate." She is said to be convinced that the Queen of Pop influenced her husband after introducing him to the Kabbalah religion.
According to
The Mirror
today, Cynthia told a friend: "He was having an affair with her."
She added: "I feel like Madonna's using mind control over him. I don't recognise the man he's become. He was a sweet, beautiful, loving husband and father. Today he's very cold and calculating."
Rodriguez's friend told the newspaper: "This all started with Kabbalah. Alex told Cynthia that he'd been looking for his soulmate. And now, he said, he'd found her. Cynthia also said she found a letter where Alex told Madonna 'You are my true soulmate.' She is very upset as you may imagine but she still loves her husband."
Cynthia, who gave birth to her second child with Alex ten weeks ago, has now travelled to Paris, where she is staying with close friend Lenny Kravitz. She is reportedly planning a divorce.
The latest revelations follow press
rumours
that Madonna is planning to split from her husband Guy Ritchie.
Her publicist Liz Rosenberg has insisted that there is no romance between Madonna and Alex, who plays for the New York Yankees.
She said: "Madonna and Alex have the same manager, Guy Oseary. They have met. They know each other and Madonna took her kids to a Yankees game last week. There's really not anything to comment on beyond that."