This feud between Paris and Nicole.....won't they ever end it? Can't we all just get along? Don't they understand how the world would be a better place if the fighting would just stop???
from digital spy: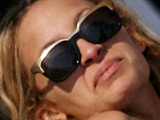 Rex Features
Nicole Richie is "fed up" with her friend Paris Hilton, say reports.
The socialite is annoyed that Hilton has moved next door to her in Glendale, California, because she doesn't welcome the press attention.
"Nicole moved out there to get away from the paparazzi," a source told the
New York Post
.
"But when Paris calls them they come to her quiet street and disrupt everything. She's getting a little fed up."
Richie lives with Good Charlotte rocker Joel Madden, while Hilton is currently romancing Madden's brother and neighbour Benji.