Sorry kids, but there's no denying the money trail!
By Marcell Minaya, Entertainment Reporter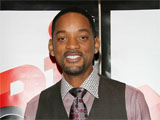 Rex Features
Will Smith and his wife Jada Pinkett reportedly donated a total of $122,000 to Scientology groups last year.
The couple, who have denied their affiliation with the religion, allegedly made a $70,000 donation through the actor's Will Smith Foundation.
These reports come on the heels of the Smiths' recent firingof the headteacher of their Scientology-inspired Southern California private school, The New Village Leadership Academy, according to Perez H*****.