She doesn't know how to study! Has she ever even opened a book?
By Daniel Kilkelly, Entertainment Reporter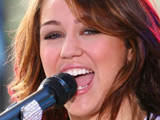 Rex Features
Miley Cyrus has hinted that she plans to study in London after quitting
Hannah Montana
.
The 15-year-old actress has
confirmed
that she will leave the hit Disney Channel show within the next two years.
Cyrus has now claimed that she is willing to take a break from showbusiness to concentrate on her education.
"I was online the other day looking at colleges. I want to go in London," Miley explained. "I'd like to do fashion and then photography."
Miley is currently home-schooled by a tutor. She has been promoting her new album
Breakout
in recent weeks.