And good for him....that will make him grow up pretty quickly and maybe he'll see how stupid Jamie Lynn is & ditch her dumb ass.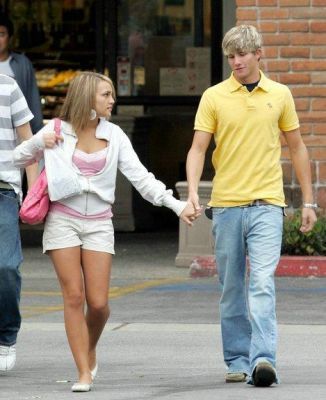 Apparently Jamie Lynn Spears' fiancé Casey Aldridge doesn't want her to be the only one who brings home the bacon. Aldridge plans to contribute some pork of his own earning, by joining the National Guard. Right now the 19-year-old works as a day laborer. Probably not the kind of guy Jamie Lynn's parents had in mind for her. But it appears Aldridge isn't content to live off of Jamie Lynn, despite all the speculation to the contrary. So he's decided to join up, even though one third of Mississippi's National Guard gets deployed to Iraq.
Casey Aldridge wants to be all that he can be - by joining the Army National Guard after Jamie Lynn Spears delivers their baby, sources say. The strapping 19-year-old day laborer has met with an Army recruiter several times, but he's terrified to tell his 17-year-old fiancée, insiders tell the Enquirer.
"Casey wants to enlist in the National Guard after the baby is born. But he's kept his plans secret from Jamie Lynn - and there's no doubt she's going to blow sky-high when she finds out," a close source said.
"Joining the military has been a dream of Casey's since long before Jamie Lynn came into the picture." With "Zoey 101″ star Jamie Lynn's acting career up in the air, Casey thinks the National Guard is a good career choice, according to insiders.
"Joining the National Guard appeals to Casey's sense of adventure and patriotism," said the close source.

[From the National Enquirer, June 16, 2008 print ed.]
A couple of thoughts here. First, if you're terrified of telling your fiancée, you're probably not ready to get married. And if you're terrified of a 17-year-old girl, you're probably not going to make the greatest soldier. Lastly, if you're terrified to tell aforementioned 17-year-old pregnant fiancée because she's "going to blow sky-high," waiting until she finds out from the National Enquirer is a great way to get yourself locked out of the house and all your clothes
set
on fire. At least that's the route I'd be going.
Jaime Lynn has managed to stay away from the
cameras
lately – header photo is an older picture of Jamie Lynn and Casey pre-pregnancy.
Cele|bitchy » Blog Archive » Jamie Lynn's fiance plans to enlist in the National Guard